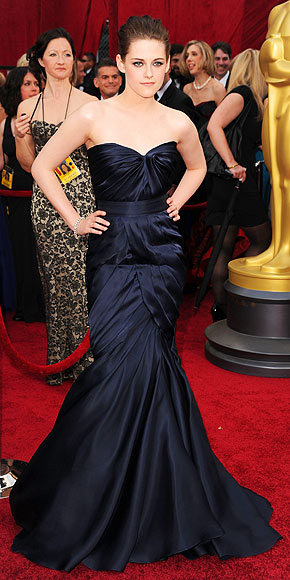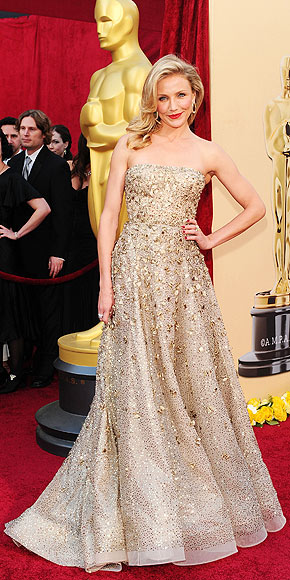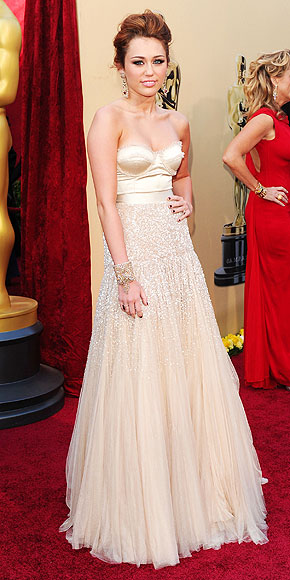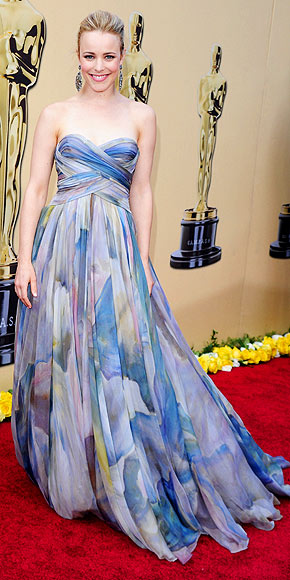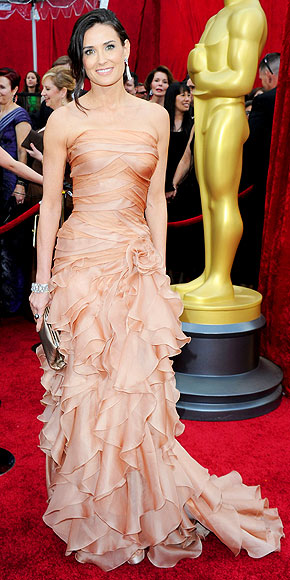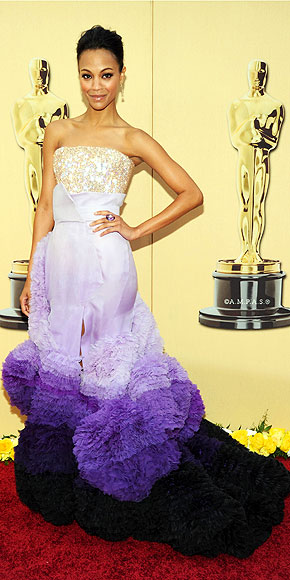 First of all, I just came back from watching Alice In Wonderland, which was fantastic, I absolutely loved it. I didn't really like the original (cartoon) film, and -usually- I'm not a big Tim Burton fan, but this movie was just fantastic!
I loved the characters, and I really liked Alice. Her clothes, all of her outfits are AMAZING, they're faded and a bit worn out, but at the same time they're kind of fun, and detailed. Plus, they all really fit and complement her character.
Well going back to the topic at hand: the oscars. The first dress is a blue Monique Luhiler worn by none other than Bella Swan, (Kristen Stewart), just beautiful. And it fits her incredibly well. Very cute, and nothing like her usual dresses (not so edgy) but it looks beautiful on her!
the shiny gold and glittered, worn by Cameron Diaz, is Oscar de la Renta, need I say more? She pulled it off fantasticly! Very old hollywood and glam. Snaps for Cameron!
Miley looked great in this Jenny Packham. Our all time favorite disney star is proving herself as a fashionista!
Rachel MacAdams, another beautiful lady, looked great in this strapless Elie Saab, though I'm not huge on the pattern (but yes, I do love the pastels..), I love the shape of the dress (it reminds me of a pink dress Natalie Portman wore to an award show last year, remember that one?)
Demi Moore, rocked a beige Versace gown. I like the bottom part & the top, I just don't know if they go so well together considering that the top part is so charged. But still, beautiful and detailed gown. E for Effort. :)
Zoe Saldana, the Avatar star (though I still recognize her as the 'friend of Britney in Crossroads') wore a Givenchy gown. As Demi's, I like it, I just think it would look better seperatley (the bottom part is too 'heavy' and the top part has glitters, which in my book is a no-no). but we give this to her, it's eye catching, and in the oscars, i'm pretty sure that's (almost) all that matters.
Can't wait to know what you think! Which one is your favorite?